SoftPerfect ® Print Inspector
Giá/List Price:

Liên hệ
Part number :
A print management and auditing solution for your LAN. It lets you manage print jobs queued to any shared printer and provides easy access to the printer and print server settings. Print Inspector also saves to a database statistics about all printed documents (document name, number of pages, name of the user who created the job, computer name etc.). The collected data can be exported to CSV format or used for reporting.
Print Inspector is a powerful print management and auditing solution for your corporate network. It records detailed information about all printed documents, including the document name, date, number of pages, name of the user who printed the document, name of the computer from which that document was sent to the printer and more.
In addition, Print Inspector lets you manage the print jobs queued to a printer. You can pause or cancel any job, view the printed document properties, resume the job or restart it. It also makes it possible to automatically suspend newly submitted jobs for selective printing, which can be useful in a busy environment like a library or Internet cafe.
A built-in notification mechanism lets you be notified or act on specific events or documents being queued. For example, you can set it up to receive an e-mail if the printer appears to be jammed, or automatically prevent large documents from being printed. A built-in reporting tool lets you create various reports based on the collected data. The report can be as simple as a list of all printed jobs or can include aggregated statistics for a specified period of time. You can also export all data to CSV or HTML format and analyse it in another application.
All in all, Print Inspector is a flexible, cost-effective solution designed to help you maximise the return on your printer investment and minimise the total cost of printer ownership. It can be used for managing print jobs and also provides you with comprehensive statistics on printer usage and users' printing habits.
---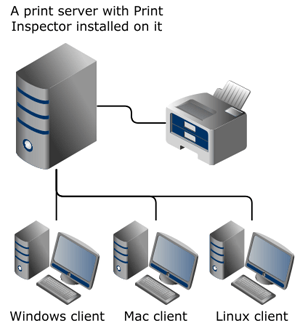 Print Inspector is designed to be used on print servers in small to medium organisations wherever there is a need for print management and auditing. A typical installation diagram on the left shows Print Inspector installed on a single print server in a small network so that any jobs submitted to the printer from client computers are monitored.
---
Screenshots
The software can monitor any local printers attached to the computer, which the monitoring service has been installed on. Detailed records are available on the History tab, grouped usage data is shown on the Users, Computers and Combined tabs. The Queue tab shows current queue on the selected printer.